CHEZ GAGNÉ
WHOLESALE
We are updating our wholesale log-in and ordering process, until then please call us to place an order or email us at wholesale@chezgagne.com
📧 wholesale@chezgagne.com
RETURNING RETAIL PARTNERS?
Already have a wholesale login?
Head to our *NEW* wholesale website and login using your email + password. Once logged in, you'll be able to access wholesale pricing ad you can start your order.
NEW TO CHEZ GAGNÉ? OR NEED A LOGIN?
WELCOME TO THE PARTY!
To get started, please fill out the wholesale application below. We will get back to you within a week.
Need a login? Reach out to us at wholesale@chezgagne.com
PREFER TO ORDER BY PHONE OR EMAIL?
Call: 818-452-9900 M-F 9am-5pm PST
Email: wholesale@chezgagne.com
ORDER WITH YOUR LOCAL SALES REP
Arizona & Southern California
Mid-West, TOLA, Southeast, Mid-Atlantic
Northeast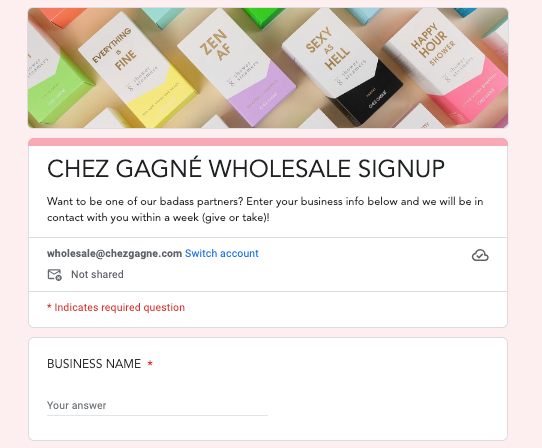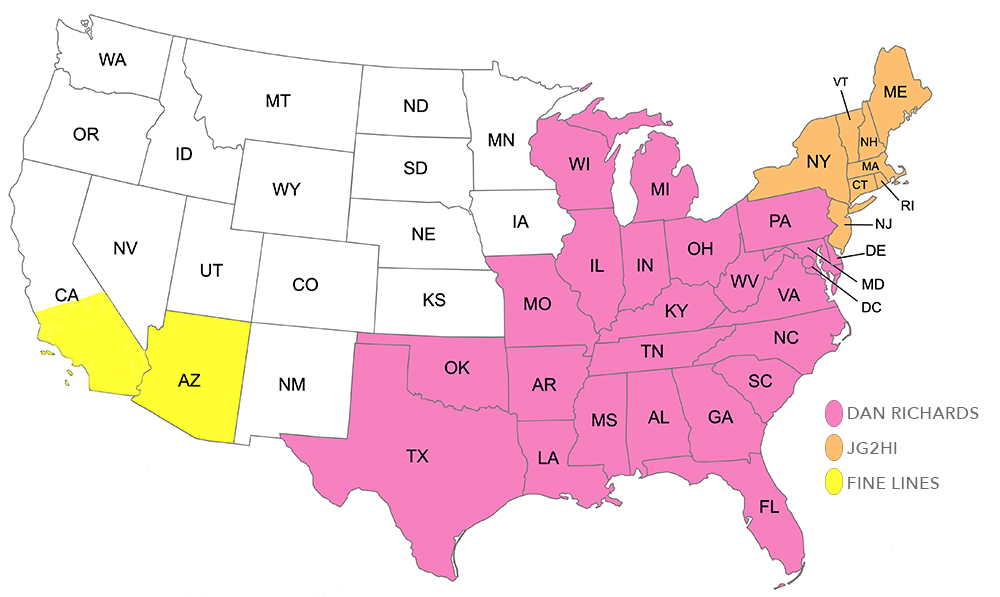 ORDER ON FAIRE?
IF YOU ARE NEW TO CHEZ GAGNÉ PLEASE FILL OUT OUR WHOLESALE APPLICATION BEFORE PLACING AN ORDER ON FAIRE.
Your order will get processed faster, and we will pay them 0% commission. Thank you!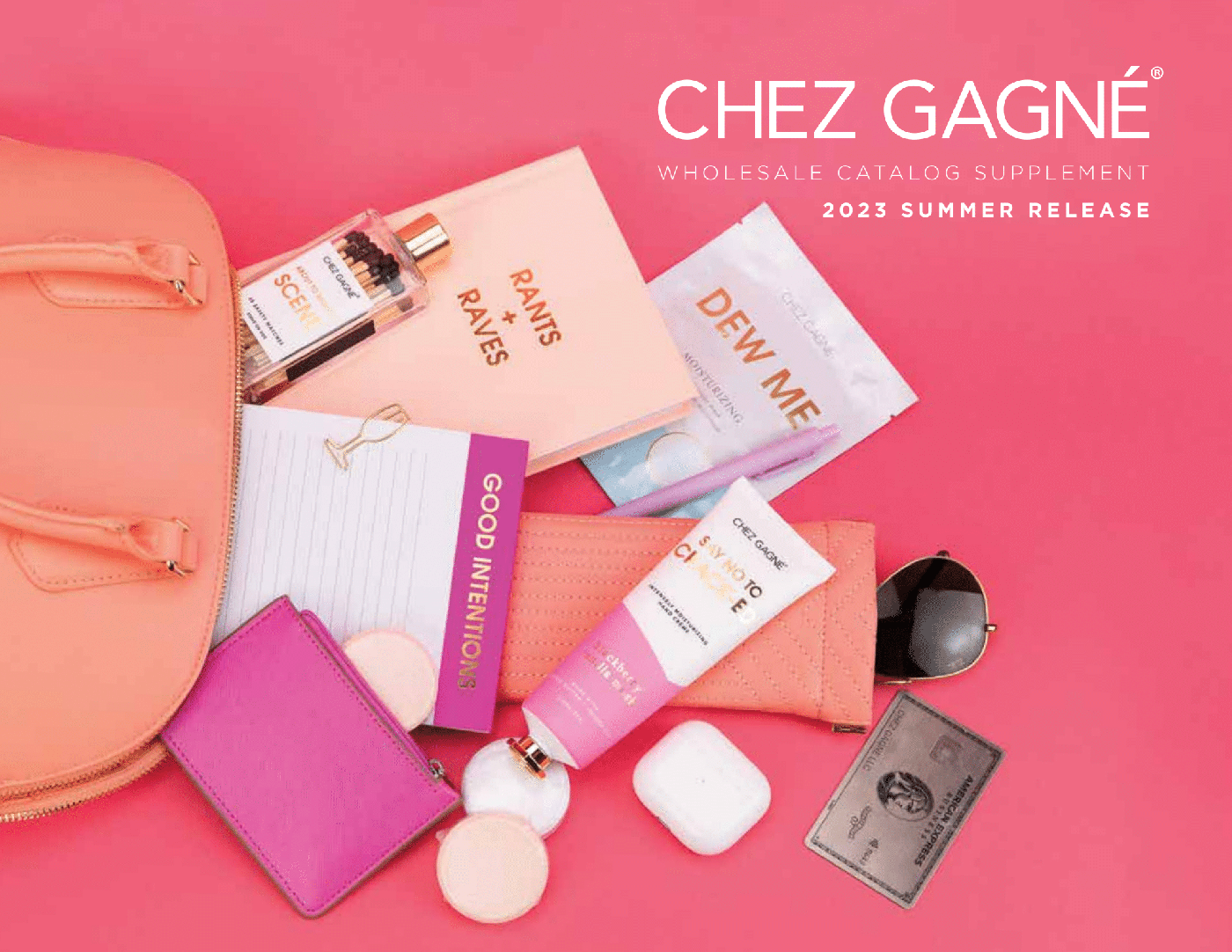 THE FINE PRINT
TERMS & CONDITIONS
MINIMUMS
$200 for opening orders and $150 for reorders. There is a $5 service charge for orders below minimums. Products must be ordered in standard quantities.
PRICE
Prices are listed as wholesale and are subject to change without notice.All prices are in US dollars.
DELIVERY
Domestic orders ship via USPS Priority Mail or UPS unless other arrangements have been made. Shipping costs are charged at the time of shipment and will be included on your final invoice. International orders are shipped via USPS Priority Mail, UPS, or DHL. Chez Gagné is not responsible for carrier delays, loss or damage. Insurance and expedited shipping options are available upon request. Freight costs, VAT & duties are the responsibility of the customer.
PAYMENT
Invoices are sent via email at the time of shipment. Initial order payment must be made with a credit card (Visa, Mastercard, Amex or Discover)or bank transfer and is required prior to shipping. All orders are charged at the time of shipment. Net30 terms are not offered at this time.No orders for accounts carrying a balance due will be shipped until outstanding payment has been made. Past-due balances are subject to 1.5% per month. Returned checks and credit disputes are assessed a $25 service charge
TURNAROUND
Paid ASAP orders are typically shipped within 1 to 5 working days of their receipt or in-stock products from Los Angeles, CA. If we are slammed, please allow up to two weeks for your order to be processed and then shipped.
COLLECTION
Outstanding invoices may accrue finance, collection, court and/or attorney's fees. Legal actions may be brought in California courts usingCalifornia laws to affect collection of past-due balances. Accounts turned over to collection are subject to a $75 reinstatement fee.
DISPLAY & PACKAGING
All Chez Gagné products must be displayed and sold in their original packaging. Journal sets may not be broken up and sold as individual pieces. If you are selling Chez Gagné products online, credit must be given to Chez Gagné in the product description and title. One image of the product must feature the product in its original packaging. Retailers may not sell Chez Gagné products on third party online platforms(i.e. eBay, Amazon, Etsy).
RETURNS, EXCHANGES + CLAIMS
Only defective items may be exchanged for product or credit and must be reported within 48 hours of receipt. Notice of loss or damage must be given to the carrier immediately. PHOTOS ARE REQUIRED FORALL DAMAGED GOODS CLAIMS. PHOTOS OF DAMAGED PRODUCT AND SHIPPING BOX ARE REQUIRED. We cannot file an insurance claim without images of the original packaging and damaged goods. Refused packages will be charged full shipping, handling and any other charges incurred. We do not accept returns or unsold seasonal merchandise.
CARDS & ENVELOPES
Our cards are printed on 100% cotton stock. Most envelopes are neon and are FSC certified. Card cellos are 100% biodegradable. All greeting card designs are printed on vintage printing presses. Due to the handmade nature of letterpress printing, slight variations in ink coverage and registration are possible and are part of the beauty of this printing process.
WARNINGS
Some materials used for foil decoration on these products can expose you to chemicals which are known to the state of California to cause cancer and reproductive harm. Go to www.p65warnings.ca.gov for more information.

Our shower steamers use safe non-toxic natural colorants that may leave colored residue depending on shower/tub material. Thoroughly rinse tub/shower immediately after each use to avoid discoloration. Rest assured, residue can be easily cleaned with common bathroom cleaners. Our personal favorite is Bon Ami.
LEGAL
All work is Chez Gagné © 2014-2023. Work may not be reproduced, altered or used without written permission from the artist.All rights reserved.
ACCEPTANCE OF FINE PRINT
Placement of order will confirm acceptance of the above terms and conditions.